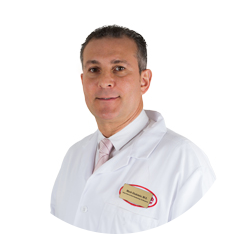 Dr. Mark Gladstein began his career by graduating from the Moscow School of Medicine in 1986 and subsequently becoming a practing surgeon. Upon arriving to the United States in 1989, he efficiently completed all of the requirements for obtaining his medical licensure in New York and gained highly coveted training positions at Albert Einstein Medical Center and St. Vincent's Medical Center's Department of Anesthesiology and Pain Management. Shortly after, he attained his board certification by the American Board of Anesthesiology. Dr. Gladstein then practiced at several academic medical centers in New York metropolitan area and was recognized as an outstanding physician educator and leader in his field. Consequently, Dr. Gladstein expanded on to the private practice arena and became the founder and Medical Director of the Pain Medicine of New York.
Currently encompassing several boroughs and serving patients from all walks of life, Pain Medicine of New York is the leading and fastest growing pain management practice in New York City. Today, Dr. Gladstein's facilities offer an expert team of medical personnel that performs over 4000 procedures per year for those in need of relieving their pain and getting them back to their normal daily life. Dr. Gladstein thrives on Pain Medicine of New York providing the most cutting edge technologies and methods. Dr. Gladstein's associates are among the very few physicians in New York City offering the most advanced minimally invasive technologies for combating pain. Dr. Gladstein and each of his associates offer superb clinical skills, unparallel professionalism and tremendous compassion for each and every one of his patients.
Dr. Gladstein's desire to give and be a proactive member of the medical communiting is reflected in everything he does. Dr. Gladstein devotes his time to serving as the Vice President and the Committee Chair at the Kings County Division of Medical Society of New York. He is also heavily involved in the community organizing as a co-founder and Board member of the New York Association for Economic Growth and Prosperity—an organization dedicated to acceleration and promotion of economic development within the ethnic communities.